Montebello PAAL
2019 Basketball Sign-ups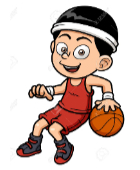 Open to boys and girls 5-17 years.
Sign-ups: March 25 – April 10, (Mon/Tues/Wed)
6:00 p.m – 8:00 p.m.
April 10, 2019 – Last day of sign ups
Location:
Montebello Intermediate Gym (MOI)
1600 W. Whittier Blvd., (Gym entrance on Maple Ave.)
Divisions:
Cadets: 5-7 years old (Grades K-1st)
Rookies: 7-9 years old (Grades 2nd & 3rd)
Officers: 9-12 years old (Grades 4th-6th)
Sergeants: 12-14 years old (Grades 7th & 8th)
Commanders: 14-17 years old (Grades 9th & 12th)
Registration fee: $100 (cash or check) – includes uniform, Team picture, & end of Season Picnic. FULL REGISTRATION FEE due at the time of sign up. Must provide copy of birth certificate, proof of residence (copy of utility bill or school report card with address or student profile sheet). Child must be present for uniform sizing.
PRACTICES START MAY 1, 2019
SEASON STARTS JUNE 1, 2019- 8 GAMES
Additional details or questions: rsanchez@cityofmontebello.com or (213) 610-1928.
MONTEBELLO PAAL – 1600 W. Beverly Blvd., Montebello, CA 90640